Whether to commemorate an occasion, celebrate a Master's success or hopes for his year, or just because they are cool and trendy, challenge coins have become very popular in Masonry over the past decade. Most coins are given out at a particular event, on special occasions, or can be bought as a fundraiser for a Lodge.
But there are some that can only be earned.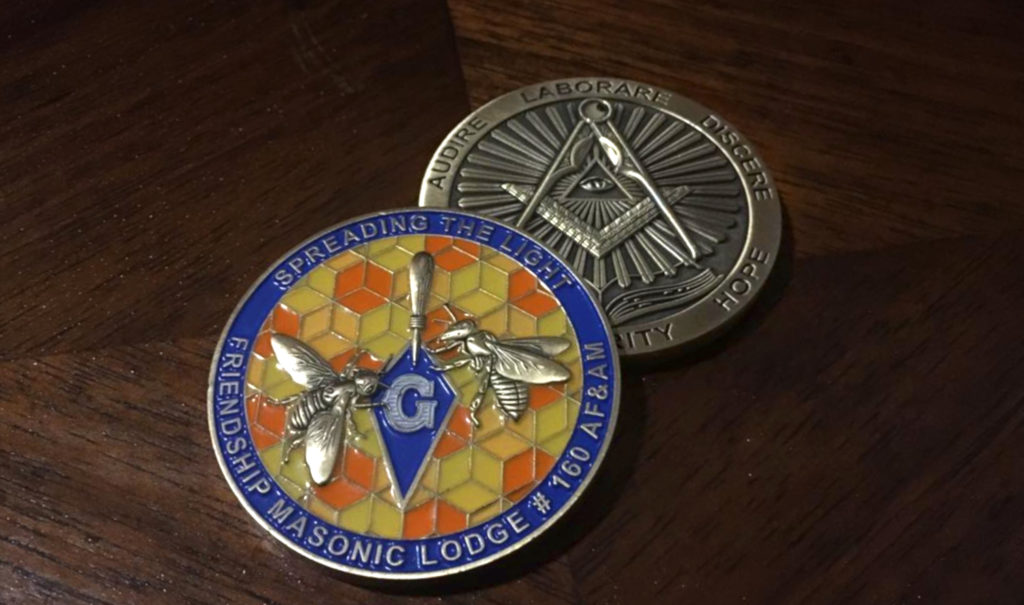 Coining a Tradition
In 2018, Worshipful Brother Lee designed a stunning Friendship Masonic Lodge #160 challenge coin, pictured here. He challenged any brother to bring a piece of Masonic education to Friendship's stated meeting and present it before the Lodge, and if they did, they would receive a coin. He also challenged Friendship brothers to travel to other lodges and bring their Masonic education there to earn a coin. Due to the limited number of opportunities one has to present at another Lodge, or even in your own, this is a very difficult coin to get your hands on.
New Year, New Growth, New Challenge
Keeping the Master's Challenge alive in Friendship Masonic Lodge, I've set a new challenge for 2019. One of my focuses as Master will be on ritual work, and in light of that, my challenge will also be focused on ritual.
Any non-Friendship member who successfully takes on a part in our degree, Senior Deacon and above, will receive a challenge coin. This includes lectures, charges, and parts in the Master Mason's 2nd section.
If you'd like to earn yourself one of these coins, reach out to us and volunteer to participate in a degree. Let us know what parts you'd like to take, and we'll let you know when and what degrees we have coming up.
For Friendship members, the challenge is a little different. If they successfully participate in another Lodge's degree at Senior Deacon and above, they will receive a coin not only for themself, but for the Worshipful Master who invited them. So if you need or want help with a degree, feel free to reach out to us as well, and you may be able to earn yourself a coin in the process.
Contact Us
Friendship Masonic Lodge is dedicated to exemplifying the ritual that forms the cornerstone and foundation of our Masonic labor, and are willing and happy to help in any way we can. You can reach out to our secretary, Worshipful Brother Jim Loenig, by e-mail at friendship160@gmail.com, You can also check out our website, www.friendship160.org/calendar, to see our calendar of upcoming degrees and events.
Fraternally,

Chris Chase
Worshipful Master
Friendship Masonic Lodge No.160 A.F. & A.M. of Oregon