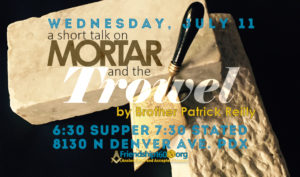 Hail, Brothers and Fellowes Well-Met!
For July's Stated (which will be on the 11th – take note!), we'll give our esteemed Brother Eric Pease (Kenton 145) a well-deserved break from cooking in a July kitchen! An arrangement from Po-Shine's Cafe de la Soul from across the street will be on the menu. The buffet will contain an assortment of Cheff James' soulful recipes which are sure to please every palate. Attire will be casual out of respect for the season.
Arrive at 6:00 to chat. Dinner Bell rings at 6:30. Gavel will fall at 7:30 sharp. We'll open and close on the MM so we can hear Bro Patrick Reilly prove up! However, the balance of the meeting will be on the EA, since we have TWO of them now (Bros Miller-Conley and Ramirez). Masonic Education will be provided by Bro Reilly, as he presents his observations on elements of the MM degree and lessons he has gleaned from it in his own life.
After the final gavel, we'll retire to the Library (Air Conditioned!) for our usual focused conversation, and further refreshment as required. The library conversation will be untyled as always, and will be appropriate for all audiences – so feel free to bring your EAs, FCs, and even your non-Mason BFF!
Fraternally,
Brother Junior Warden Kent